Succéhistorier
Bahtijar
"Thank you Muslima!"
Selam Aleykom! Först och främst är det i Allahs (swt) makt som för två personer ihop om dessa två är menade för varandra. Denna sidan är dock en av dom starkaste bidragen där man kan hitta sin rätta hälft. Den hjälpte oss att hitta varandra och föra oss närmare till att komplettera vår religion. Efter att vi började maila varandra dröjde det inte mer än tre månader så var vi gifta, elhamdullilah. Jag personligen hade sidan ca 1-2 månader inan jag träffade den rätta frun för mig. Därför rekommenderar jag starkt denna sidan för andra. Jag vill tacka er för att ni gör ett jätte bra jobb med sidan och för Människor tillsammans. En väldigt nöjd fd Medlem
Saber
"Thank you Muslima!"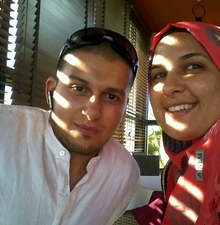 We starting know each other through this site last August. I went to Tunisia and I met her and we decided to marry next year. She is the best thing that happened in my life. I cannot wait to be with her and build a family with the person I love!
Nurul
"Thank you Muslima!"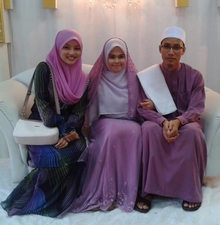 Hope everybody can find the best partner till jannah
Al and Muna
"Thank you Muslima!"
Thank you Muslima for bringing us together. We would have never met if it weren't for Allah swt and Muslima. We got married in March of 2012. We are very happy together and expecting our first child Alhamdulilah. May Allah swt bless your website. We hope many Muslim brothers and sisters find love and happiness like we did insha Allah.
Member 6564903
"Thank you Muslima!"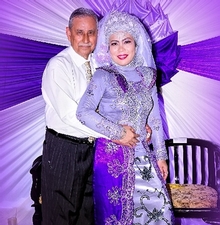 WE ARE HAPPILY MARRIED - BUNDLE OF THANKS TO YOU.
Dear brothers and sisters at Muslima. I and my lovely Indonesian wife would like to thank you all very very much for helping us find each other and getting happily married. After making a final choice I traveled to Indonesia to marry my lovely wife in a sumptuous wedding ceremony attended by town dignitaries including Provincial Governor. We both spent 12 memorable days together. Then I came back to USA and am waiting for her US visa. I am sending a wedding picture of both of us for your record. May Allah reward you for this act of kindness and great virtue of bringing two persons in love together and for bringing happiness to our life.
Cupid Media, Cupid Medias logga och Muslima är varumärken som tillhör Cupid Media Pty Ltd.